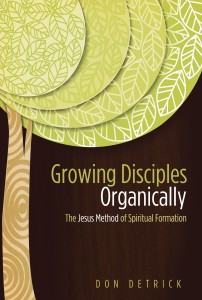 The following is the foreword to the book by my good friend and ministry associate, Les Welk. Les serves as the network team leader for the Northwest Ministry Network and we have worked together for many years.
If you see a book online or lying on a coffee table that bears the name of an author you know personally, you are far more likely to pick that book out of the pile, open it, and read it. The first time I heard that illustration was with reference to the Bible.  I was receiving instruction as a young person on how to become a more developed and devoted follower of Jesus, a better disciple.  My mentor accurately stated that the more familiar I became with the Author of the Bible, the more inclined I would be to read His Book.  Perhaps he did not recognize how truly organic and profound his words were, but he was right.  In my lifelong pursuit of becoming a more devoted disciple of Jesus, I have indeed recognized that my hunger to hear God's Words is proportionate to the depth of my relationship with him at any given time.  This is but one of many life lessons that have informed me that discipleship is relational, it is cyclic, it is perpetual.  In a word, it is organic.
I know Dr. Don Detrick, the author of Growing Disciples Organically: The Jesus Method of Spiritual Formation, and I know him well.  Everything I know about him as a person and as a leader causes me to embrace his timely work on a vital topic.  Dr. Detrick is first and foremost a fully-devoted follower of Christ himself, and he demonstrates this consistently in his personal and professional life.  Don is a disciple.  He has also demonstrated over years of time his ability to make disciples, and he does so in just the way he illustrates and promotes in this volume, organically.  I have come to recognize, with considerable interest and delight I might add, that much of his ability to lead and disciple others is rooted in his youthful experiences living and working on a farm.  I never tire of his childhood reflections about life on the farm. Those experiences were truly organic to his formation, and he successfully draws upon that knowledge and experience to offer keen insights into what it takes to make grow disciples today.  Just prompt Don reminisce about his first paid job as a fertilizer vendor (chicken manure to be exact), and you readily see how his formative youthful experiences on the farm helped shaped Don into the wise and practical leader he has become.  Let's be honest, much of our time as a leader is spent in effectively "managing manure," an insight I wish I had been given much sooner in life and ministry!
If you were to gather Christian leaders from across America, or even the world, and allow them to engage in a free-wheeling discussion on issues of greatest concern to them in ministry, the topic would inevitably turn to discipleship.  Leaders are challenged by the task.  I was in a recent national meeting of denominational leaders where it was boldly stated that "growing healthy and productive disciples of Jesus is both the most important and least understood task facing church leaders today."  Leaders are looking for discipleship insights and approaches that produce lasting fruit, but struggle in the application of methods that are at least out-of-date, if not demonstrated to be ineffective.  Most of us would confess to the irresponsibility of leading a person across a line of faith in Christ, only to fall short in our effort to grow them into Christ as a productive disciple.  We must recognize this as nothing short of failure to complete the Great Commandment of Jesus  to "make disciples of all nations," which in Christ's own words is comprised of baptism, learning, and obeying (Mt. 28:19). This historic directive of Jesus must be embraced as our contemporary responsibility and embraced from the organic perspective Dr. Detrick has so capably articulated.
We live in a time when "modern" approaches sometimes clash with what we have come to know as "post-modern" perspectives.  The modern approach taught me to see discipleship as a linear process, with a well-defined scope and sequence.  Modernism taught me to view discipleship through the lens of prescribed catechisms, with starting and ending points that are clear and predictable.  Discipleship was deemed successful when adequate doses of Biblical and theological knowledge had been dispensed in order to help a prospective disciple "arrive" at an educational or informational destination.  In many cases, we even felt that this task could be completed in a detached or rote fashion, without the complications and intricacies that are inevitably encountered in a true relationship between the disciple and the disciple-maker while "doing life together."
Yet, our review of Jesus as a disciple-maker affords a far more organic process, and one that is arguably more "post-modern" in character.  The discipleship of Jesus was more relational and less informational. It was less linear and more abstract, seizing upon opportune moments to initiate growth and change in His followers.  Jesus allowed the disciples to unfold what God set before them rather than always unfolding it for them.  For Jesus it seemed as much about the journey as it is about the destination.  It was not nearly as prescribed and predictable as we would like to make it for our own convenience, and we know it wasn't convenient for Jesus.  As I have heard it so appropriately described, "Discipleship is messy."  So is farming and growing the organic way, but the ultimate harvest is one that is healthy, attractive, and savory.
If you devour this book, you will surely learn something significant about its author and his own organic formation as an Oregon farm boy.  More importantly you will be afforded insights on organic discipleship that parallel the Scriptures, and reflect the discipleship approaches of Jesus himself.  We live in an hour when healthy and productive disciples of Jesus are desperately needed, and we must seek every legitimate means to produce them in response to the command of Jesus.