Author:
donaldd777@comcast.net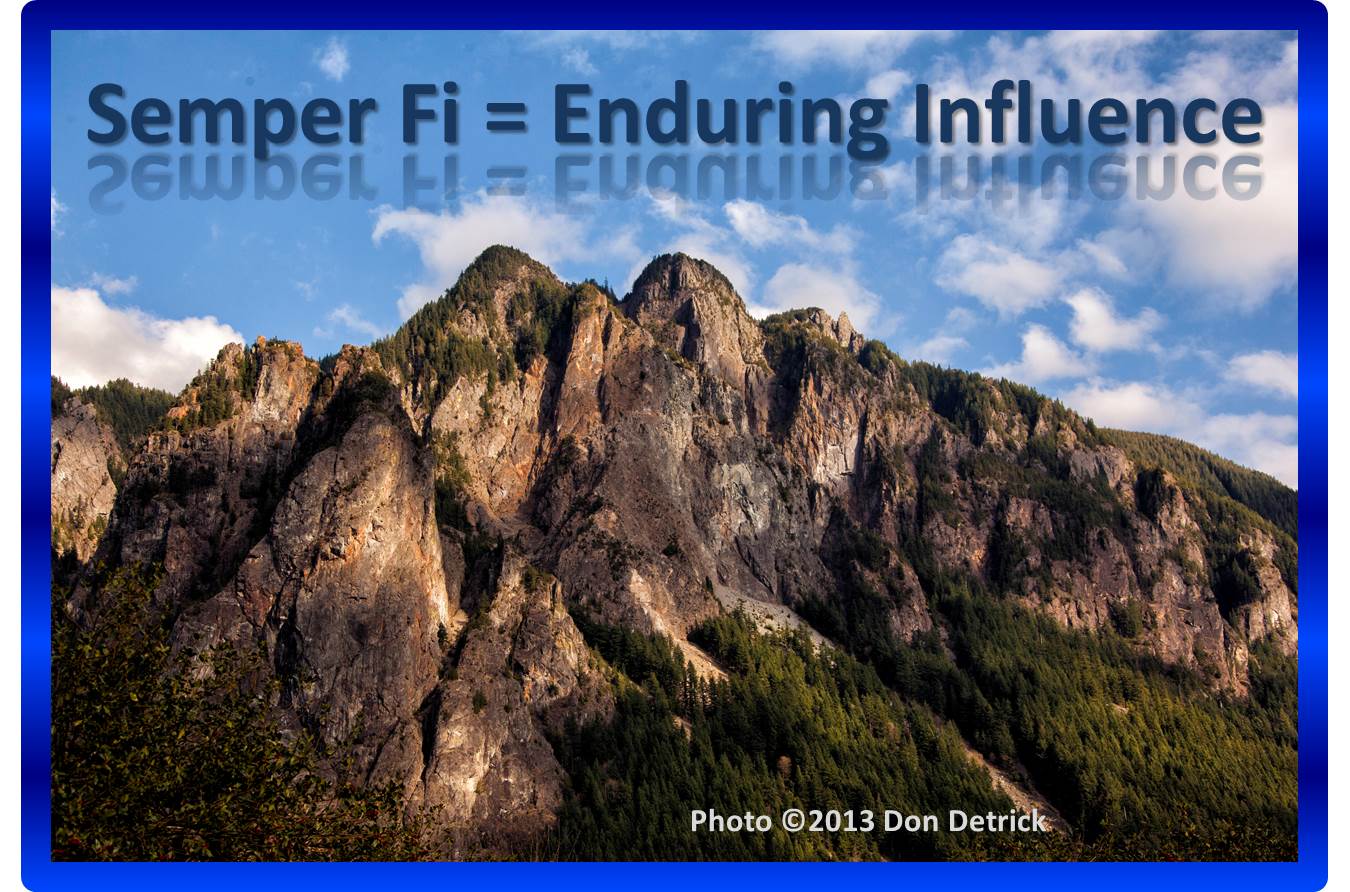 "There's no such thing as an ex-Marine!" While I have heard NCIS Special Agent Leroy Jethro Gibbs on television's top-rated series make the remark many times, I was somewhat surprised to hear the unison voices of three students echo the exact sentiment. Someone in the university class I was teaching happened to mention that a number of their cohorts were ex-Marines, thus their collective and corrective response.
It got me thinking. What is it that makes a select group of individuals so impassioned that they proudly wear the title, "Marine" as a badge of honor forever? Not "ex-Marine," mind you, but even years following active duty they subscribe to an identity in the present tense, "Marine."
What occurs within that window of time in active service, be it two years or thirty, that becomes part of the fabric of their lives forever? What creates the ethos, the culture, the duty, the mission that permeates their collective DNA? What could inspire random diverse individuals with unique personalities, gifts, and talents into a unit with a collective identity and purpose? What is so compelling about their mission that men and women risk life and limb to defend each other and more importantly, defend the dignity and freedom of their nation? What could possibly generate such enduring influence?
Books could be written on the subject (and they have). Techniques, strategies, training, culture, combat, duty, shared quarters, community, language, experience, camaraderie—these all contribute. But in the end it really comes down to two words: Semper fi. Not "semper fidelis." The abbreviated version works fine, and is more efficient in the Marine economy. Latin is not the strong suit for most Marines. And like Special Agent Gibbs on NCIS, most Marines I know are people of few words. They choose action over verbiage. They don't need a lot of fancy words to proclaim their faithfulness, they show it every day. They get things done. They can be counted on when it counts. Their influence endures. In a word, leadership is influence, and they lead by example.
We have all experienced the effects of unfaithfulness. Needless suffering, broken promises, broken vows, broken families, and broken lives are the inevitable result. Even the most faithful person may have a lapse of faithfulness. Unfaithfulness is common. Faithfulness is rare. That explains the question posed by the writer of Proverbs: "Many claim to have unfailing love, but a faithful person who can find?" (TNIV)
Semper fi. Always faithful. Always on active duty. Always ready to be found, identified, and counted. What if every disciple of Jesus Christ was as quick as my Marine students to identify with Jesus? Never an ex-disciple. Never a lapse, but always faithful. Who knows, we might become people of enduring influence. And we might just change our world.
Part 2:
"We're looking for a few good men"
– The U.S. Marine Corps.
I remember frequently seeing or hearing that phrase as a boy growing up during the Viet Nam era. In print, television, or radio commercials, the message was the same: it requires something to be a Marine. It requires faithful service, and only a few meet that requirement.
Though not a Marine, our nation yesterday (4/11/13) honored a faithful hero. The Congressional Medal of Honor was awarded posthumously by President Obama to U.S. Army Chaplain (Capt.) Emil Kapaun, a hero who died in 1950 during the Korean War serving and saving the lives of his fellow soldiers.
Chaplain Kapaun heroically saved the life of a wounded soldier who was about to be executed by the enemy by running to and lifting the wounded man. Both were captured and sent to a POW camp, where the chaplain continued to serve as a representative of Jesus, frequently giving his own tiny ration of food so other soldiers could live. He modeled faith and virtue. While keeping hope alive for others, he died of starvation in that camp.
One iconic image of Chaplain Kapaun captures his story. The photo shows him helping a wounded soldier, with his arm around his shoulder. In an online article in Time magazine, Chaplain Col. Kenneth W. Stice describes Chaplain Kapaun's heroism:
"I've read his story and wondered what were the influences that shaped him to be such a man of influence, willing to make extraordinary sacrifices for others.  Well there's the obvious formation of his abiding religious faith and practice. That is common to all chaplains.
But there's also the influence of his family life – as one who grew up in rural Kansas, on a farm, within a tightly-connected community. It was in that context that he learned the value of hard and honest work, loyalty and support of neighbors, and simple a lifestyle with meager possessions.
Both of those streams of influence were absolutely vital in preparing him to endure captivity with such humility and courage, so that he became the inspiration of other POWs to carry on.  Chaplain Kapaun was consistent in his daily walk, and how he lived his faith.
The remarkable acts of bravery under direct fire in November of 1950 were reinforced through those daily acts of religious faith. All chaplains have the opportunity to make that impact on others with consistent living that was epitomized by Chaplain Kapaun's example. His consistent walk and witness encourage me on my own journey of faith. But that same witness serves to convict me of areas that I need to be more faithful."[1]
Did you notice how many times Col. Stice used the word, "influence" to describe this heroic man? I was touched reading about Chaplain Kapaun's faithfulness and enduring influence. And I had to ask, What do all faithful heroes have in common? Here's what I came up with:
They are present and available rather than absent and inaccessible. Can my loved ones count on me to be present and available–to be there for them when they need me?
They are alert and engaged, rather than pre-occupied and distant. Am I present when I am present, or neglecting my duty to pay attention to my family, my friends, my responsibilities?
They are courageous and sacrificial, rather than playing it safe out of harm's way. Will I protect and serve others, or only myself?
The Marines are looking for a few good men who will be "always faithful." It's not a gender thing, anybody can be a hero to somebody by being faithful in who you are and faithful in what you do. Enlist today, your faithful influence will endure. Semper Fi!
[1] U.S. Army Chaplain Col. Kenneth W. Stice, "Medal of Honor: Chaplain Kapaun's Heroism Feted Today. Time, April 11, 2013 at http://nation.time.com/2013/04/11/medal-of-honor-chaplain-kapaums-heroism-feted-today/ accessed 4/12/13.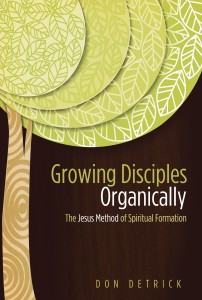 The following is the foreword to the book by my good friend and ministry associate, Les Welk. Les serves as the network team leader for the Northwest Ministry Network and we have worked together for many years.
If you see a book online or lying on a coffee table that bears the name of an author you know personally, you are far more likely to pick that book out of the pile, open it, and read it. The first time I heard that illustration was with reference to the Bible.  I was receiving instruction as a young person on how to become a more developed and devoted follower of Jesus, a better disciple.  My mentor accurately stated that the more familiar I became with the Author of the Bible, the more inclined I would be to read His Book.  Perhaps he did not recognize how truly organic and profound his words were, but he was right.  In my lifelong pursuit of becoming a more devoted disciple of Jesus, I have indeed recognized that my hunger to hear God's Words is proportionate to the depth of my relationship with him at any given time.  This is but one of many life lessons that have informed me that discipleship is relational, it is cyclic, it is perpetual.  In a word, it is organic.
I know Dr. Don Detrick, the author of Growing Disciples Organically: The Jesus Method of Spiritual Formation, and I know him well.  Everything I know about him as a person and as a leader causes me to embrace his timely work on a vital topic.  Dr. Detrick is first and foremost a fully-devoted follower of Christ himself, and he demonstrates this consistently in his personal and professional life.  Don is a disciple.  He has also demonstrated over years of time his ability to make disciples, and he does so in just the way he illustrates and promotes in this volume, organically.  I have come to recognize, with considerable interest and delight I might add, that much of his ability to lead and disciple others is rooted in his youthful experiences living and working on a farm.  I never tire of his childhood reflections about life on the farm. Those experiences were truly organic to his formation, and he successfully draws upon that knowledge and experience to offer keen insights into what it takes to make grow disciples today.  Just prompt Don reminisce about his first paid job as a fertilizer vendor (chicken manure to be exact), and you readily see how his formative youthful experiences on the farm helped shaped Don into the wise and practical leader he has become.  Let's be honest, much of our time as a leader is spent in effectively "managing manure," an insight I wish I had been given much sooner in life and ministry!
If you were to gather Christian leaders from across America, or even the world, and allow them to engage in a free-wheeling discussion on issues of greatest concern to them in ministry, the topic would inevitably turn to discipleship.  Leaders are challenged by the task.  I was in a recent national meeting of denominational leaders where it was boldly stated that "growing healthy and productive disciples of Jesus is both the most important and least understood task facing church leaders today."  Leaders are looking for discipleship insights and approaches that produce lasting fruit, but struggle in the application of methods that are at least out-of-date, if not demonstrated to be ineffective.  Most of us would confess to the irresponsibility of leading a person across a line of faith in Christ, only to fall short in our effort to grow them into Christ as a productive disciple.  We must recognize this as nothing short of failure to complete the Great Commandment of Jesus  to "make disciples of all nations," which in Christ's own words is comprised of baptism, learning, and obeying (Mt. 28:19). This historic directive of Jesus must be embraced as our contemporary responsibility and embraced from the organic perspective Dr. Detrick has so capably articulated.
We live in a time when "modern" approaches sometimes clash with what we have come to know as "post-modern" perspectives.  The modern approach taught me to see discipleship as a linear process, with a well-defined scope and sequence.  Modernism taught me to view discipleship through the lens of prescribed catechisms, with starting and ending points that are clear and predictable.  Discipleship was deemed successful when adequate doses of Biblical and theological knowledge had been dispensed in order to help a prospective disciple "arrive" at an educational or informational destination.  In many cases, we even felt that this task could be completed in a detached or rote fashion, without the complications and intricacies that are inevitably encountered in a true relationship between the disciple and the disciple-maker while "doing life together."
Yet, our review of Jesus as a disciple-maker affords a far more organic process, and one that is arguably more "post-modern" in character.  The discipleship of Jesus was more relational and less informational. It was less linear and more abstract, seizing upon opportune moments to initiate growth and change in His followers.  Jesus allowed the disciples to unfold what God set before them rather than always unfolding it for them.  For Jesus it seemed as much about the journey as it is about the destination.  It was not nearly as prescribed and predictable as we would like to make it for our own convenience, and we know it wasn't convenient for Jesus.  As I have heard it so appropriately described, "Discipleship is messy."  So is farming and growing the organic way, but the ultimate harvest is one that is healthy, attractive, and savory.
If you devour this book, you will surely learn something significant about its author and his own organic formation as an Oregon farm boy.  More importantly you will be afforded insights on organic discipleship that parallel the Scriptures, and reflect the discipleship approaches of Jesus himself.  We live in an hour when healthy and productive disciples of Jesus are desperately needed, and we must seek every legitimate means to produce them in response to the command of Jesus.